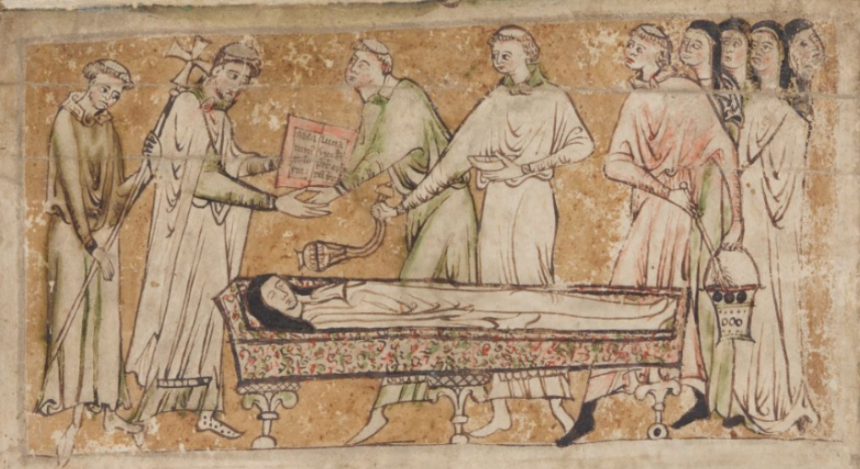 (British Library, Egerton MS 2849/1, mem. 1r. Miniature heading Lucy of Hedingham's mortuary roll, 13th c.)
I am currently engaged in an extended research project on historiographic methods, medieval and modern. This project reconsiders how contemporary scholars perceive the relationship between the forms of history production and the kinds of historical understandings different forms enable. That is, I read the standard (narrative) form of history writing as a methodological decision with epistemological consequences: narrative history will always produce a specific kind of insight about the past. However, other ways of "doing history" – by which I mean the attempt to impose meaning on a cluster of events in an often intractable past, in order to render that past as "usable" or "thinkable" for the present – encourage new knowledge about, and novel temporal relationships between, past and present. Importantly, these ways of doing history may be visual, physical, or performative, not only verbal.
My research tackles this ambitious project by addressing one concrete question about medieval English religious culture: is it true that medieval nuns wrote no history? I use that question to interrogate both medieval and modern understandings of what "counts" as history production. Specifically, I examine how English nuns used the cyclical performance of the liturgy (the daily, weekly, and yearly round of religious services at the core of nunnery life) instead of the linear narrative of chronicles to record their history. This enacted, embodied way of doing history crafts recursive relationships with the past that are predicated on the continued presence of the past rather than, as is true of linear narrative, the past's absence. I use this alternate medieval time-tracking mode to query narrative's dominance in modern discussions of historiography.
This research is sponsored in part by a Faculty Research Grant from the Office of the Vice President for Research, UGA, 2018.
Project outputs (presentations and conference papers)
"A Murdering, if Penitent, Philandress: Queen Elfthryth's Reputation at Wherwell Abbey." Nov. 2018, UGA Institute for Women's Studies Friday Speaker Series
"Forgetting Ælfthryth at Wherwell Abbey." July 2018, International Medieval Congress, Leeds, England
"Praying Women's History in Medieval Nunneries: The Case of Barking Abbey." March 2018, University of Missouri, Columbia, MO
"Liturgy as Historical Memory in English Nunneries." March 2018, Medieval Academy of America annual conference, Atlanta, GA
"Awakening the Past: Medieval Liturgy and Native American Storytelling Traditions." July 2017, Montana Medievalist Roundup, Missoula, MT
"Praying the Past: Liturgy as History in English Nunneries." Feb. 2017, Futures of Medieval Historiography, University of Pennsylvania, Philadelphia, PA
"Looking Everywhere For (Fore)Mothers: Writing Women's History in Medieval Nunneries." March 2015, UGA Institute for Women's Studies Friday Speaker Series, Athens, GA
"Foundresses To Think Back Through: Origin Narratives and Conventual Memory in Later English Nunneries." May 2011, 46th International Congress on Medieval Studies, Kalamazoo, MI